School Bulletin Board Ideas


with a Butterfly Theme
Need some School Bulletin Board Ideas?
Here are some different options for Butterfly Bulletin Boards....
This new Monarch Butterfly Life Cycle PowerPoint is a great way to teach the butterfly lifecycles to your students and includes a free study guide.
Looking for some easy science projects to go along with your butterfly bulletin board? Consider raising monarch butterflies in the classroom.
Fall is a great time to do this because common milkweed, monarch caterpillar food, is easy to find. Check out the step by step instructions for a elementary school science project and a winter plant science project growing tropical milkweed from seeds.
If it is not possible or there isn't time for you to raise butterflies in the classroom, consider a monarch life cycle movie. Seeing the monarch butterfly stages will help your students understand the life cycle better.
Butterfly photos of the Monarch life cycle could be used for bulletin boards, flash cards or framed art in the classroom or at home. Butterfly raising kits for the classroom are always a favorite of students in any age group.
Below is an Interactive school bulletin board idea on the Life Cycle of the Butterfly for an Elementary Science Project. This 8 photo set of the Monarch life cycle would be perfect to use with this bulletin board.
My daughter is an Elementary Education major in college. In her Science Pedagogy class, they were assigned an Interactive Bulletin Board on a science topic.
Two of her friends chose the life cycle of a butterfly. Imagine their surprise when they "stumbled" upon my website while doing research and saw a picture of my daughter!
They allowed me to share their Butterfly Life Cycle Bulletin Board for 2nd grade that they created. I think they did a great job!
Their "reflection" (below) explains the interactive nature of their school bulletin board idea.
Thank you Melissa and Laura!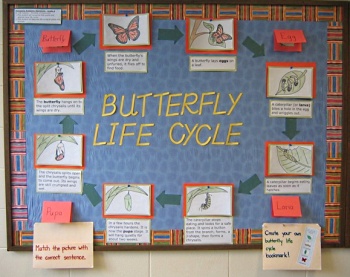 Check out my NEW interactive butterfly bulletin board.


Interactive Bulletin Board Reflection
"Our interactive bulletin board is titled "Butterfly Life Cycle." This bulletin board meets the Minnesota Academic Standard for Science, 2-IV-B-31. Under the strand "Life Sciences" and sub-strand "Diversity of Organisms," second grade students are expected to describe life cycles of plants and animals. We decided to focus on the life cycle of a monarch butterfly, because it is a species students in Minnesota will be familiar with.
There are three main ways our bulletin board is interactive. First, students are asked to match pictures with sentences describing the stage of a butterfly's life. The pictures were placed in a manila folder that was labeled with directions for students to follow. Students then moved the images and tacked them above the correct sentence. We felt this would be an excellent strategy to help both visual and linguistic students move through the life cycle of a butterfly.
Second, there are four flaps with vocabulary terms students will need to know: larva, pupa, egg, and butterfly. When students open the flap, they see an image as well as a description of the term. We believed the flaps would be helpful because they will work similar to a "word wall." Students could reference the word flaps in order to spell the terms correctly in their writing.
Third, students are able to create their own butterfly life cycle bookmark to take back to their desk and illustrate. There is a space above the name of each stage for students to draw a picture. Therefore, visual, linguistic, and creative learners benefit from this activity. Also, students are able to take something home with them that they will use as a bookmark. As a result, every time they use the bookmark they will remember what they have learned. In other words, the repetition will help the students retain the knowledge they had learned."
We would love to hear from YOU...share your butterfly bulletin board ideas with us!
Check out my Butterfly Lesson Plans on the "Life Cycle of a Butterfly". This Elementary Science Unit has Four Lessons on the Butterfly Stages. School Bulletin Board Ideas with a Butterfly theme (such as above) could go right along with this Unit.
....
---
Life Cycle of the Butterfly Book
Here is a excellent book on many types of butterflies life cycles. The high quality close-up photos of the butterfly stages are beautiful and it would be a great addition to a unit on butterfly life cycles.
---
Your School Bulletin Board Ideas
Please share your Butterfly-themed.....

Preschool Bulletin Boards
Kindergarten Bulletin Boards
Elementary Bulletin Boards
Christian Bulletin Board
I hope you have gotten some interesting School Bulletin Board Ideas to use in your classroom. Check out the other pages on this website about the life cycle of the butterfly. KIDS LOVE BUTTERFLIES!!


Return to Home from School Bulletin Board Ideas