Fall Preschool Ideas
for Preschool Teachers
If you have been looking for interesting fall preschool ideas...here is one your preschoolers will love.
Children are fascinated by butterflies.
The Monarchs are on the move in late August and early September, so this is a great time to study them.
These butterfly lesson plans focus on Monarch Butterflies and their Fall Migration.


Free Preschool Lesson Plans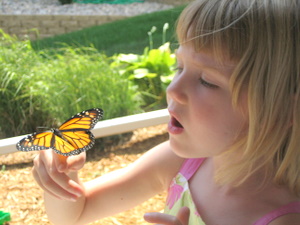 Prepare a Butterfly Bulletin Board (check out link for example) using:

Photos of Monarch Butterfly Stages.
Map of North America showing Migration Route from your home to Central Mexico.



Read the Very Hungry Caterpillar by Eric Carle.


Take the children on a walk or to a park to look for migrating Monarch Butterflies

Keep track of how many butterflies you observe.
Use a calendar to tally the number of butterflies you see each day with butterfly stickers (preschool math).



Using the map on the bulletin board talk about migration....why? where? how?.... Monarch Migration link for detailed information.


Talk about butterfly life stages using photographs on bulletin board or photographs on Raise Monarch link if you have a computer in the classroom.


Preschool art ideas include coloring caterpillars and butterflies.


Take a field trip to the Nature Center (they might be tagging Monarchs).
Easy Science Project Ideas
Return to Home from Fall Preschool Ideas