Monarch Butterfly Life Cycle
PowerPoint Science Lesson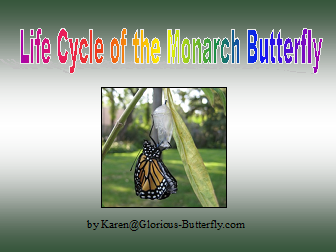 This Monarch Butterfly Life Cycle PowerPoint is a great complement to an elementary butterfly unit or butterfly lesson plans. It also would be great to use for science homeschool lesson plans.
The many beautiful photos of the four butterfly stages vividly bring the study of butterfly lifecycles into your classroom.
Monarch Butterflies Life Cycle
This butterfly life cycle powerpoint covers the following stages of the monarch butterfly:
Monarch Egg - includes explanation of host plant and how the female finds it, how many eggs the female lays and more
Monarch Caterpillar or larva - includes size of caterpillar from hatching to full grown, defines molting, preparation for next stage and more
Monarch Chrysalis or pupa - includes detailed description and photos of chrysalis stage and more
Monarch Butterfly or adult - includes photos of the emergence of the monarch butterfly, photos of male and female
Monarch Butterfly Anatomy
For the upper elementary students, at the end of the PowerPoint I have included photos showing:
Monarch Caterpillar Anatomy
Monarch Chrysalis Anatomy
Monarch Butterfly Anatomy
These slides are at the end of the life cycle of butterfly PowerPoint, so if you teach younger elementary students you are free to skip these slides.
Bonus: Free Monarch Life Cycle Study Guide
You will also receive a free study guide with your purchase of the powerpoint...see details below.
Monarch Life Cycle PowerPoint
Click on the "Buy Now" to buy this Butterfly Lesson.
Price: $7.00
This Monarch Life Cycle Powerpoint comes with a 30 day 100% money back guarantee if you aren't completely satisfied!
Free Monarch Life Cycle of Butterfly Study Guide
I will send a free Monarch Butterfly Life Cycle study guide to you by separate email when I receive notice that you have purchased the Powerpoint. This includes questions and answers on the information covered in the PowerPoint about the four stages of the monarch butterfly.
You can use this to review the lesson or as a quiz for older elementary students or whatever creative way you wish.
*******************************************************
Make sure and check out my Life Cycle of a Butterfly Movie or DVD, more great resources for a classroom Butterfly Life Cycle unit!
*******************************************************
Return to Home from Monarch Butterfly Life Cycle