Elementary Science Projects
Kits for Raising Butterflies
What are students favorite elementary science projects?? Raising a butterfly in the classroom has to top the list!
Below you will find science kits for raising butterflies in the classroom with everything you need.
Also, check out my step by step instructions for elementary school science projects raising monarchs. This includes a fall science project using plentiful common milkweed found almost everywhere and a winter science plant project growing tropical milkweed from seed.
This is a perfect Christian or Catholic homeschool science project because the wonder of God's creation is so evident in the metamorphosis of the butterfly.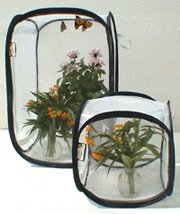 There are two types of butterflies that are great to raise in the classroom....the Monarch and Painted Lady.
In my opinion the Monarch Butterfly is much more interesting in every stage and "natural" because you are providing "real" plant food, but the Painted Lady might be easier because it doesn't require as much time.
If you decide on Monarch Butterflies as elementary science projects, you will need to plan ahead. The monarch caterpillar host plant (food) is milkweed.
You will need to either have access to Common Milkweed or consider a winter science project growing tropical milkweed. Then, you can order monarch caterpillars.
On the other hand, the painted lady kits come with the prepared food, so you can start your butterfly classroom activities right away.
Here are some to check out. Make sure and read carefully what the kit includes. Some of them require you send in a coupon for the caterpillars and an extra $5 for postage.
If you don't have enough time for the Monarch Butterfly this year, try the Painted Lady and then plan ahead for next year.
---
Make sure and check out my related pages:
Return to Home Page from Elementary Science Projects with Butterflies