Ideas for Bulletin Boards
Preschool and Elementary
Butterfly Theme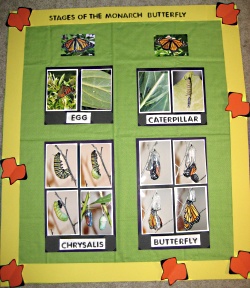 If you are looking for easy ideas for bulletin boards with a science theme, your preschool, kindergarten and elementary students will love this butterfly bulletin board. Also, be sure and check out the interactive bulletin board page on this website.
Combine a butterfly spring bulletin board and raising a butterfly in the classroom with these butterfly kits and it will be a favorite of your students.
This is a very easy project that my friends Kathy (retired kindergarten teacher) and Terese (artistic one) put together. I have included step by step instructions with photos to simplify making your own classroom bulletin boards.
I have a set of 14 butterfly photos available that would be perfect for creating this bulletin board or one of your own.
Butterfly Bulletin Board Instructions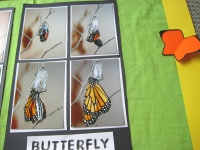 Additional Ideas for Bulletin Boards on the Monarch Butterfly
If you are rushed for time, here is a very simple butterfly bulletin board using the same butterfly pictures as above. These are just put on black tag board....quick and easy.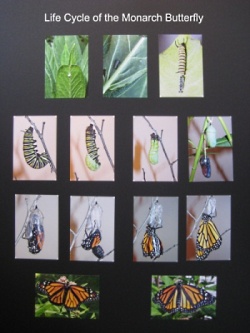 If you teach upper elementary grades you might want to add more text to the bulletin board with facts about each of the stages of the Monarch Butterfly.
For instance, for the caterpillar, add the scientific name of larvae and some specifics about how long this stage lasts and so on. You should be able to find this information on my Monarch Butterfly pages.
This new Monarch Butterfly Life Cycle PowerPoint is a great way to teach the butterfly lifecycles to your students and includes a free study guide.
Also, I highly recommend raising a butterfly in the classroom to coincide with your butterfly bulletin boards. It will be one of the highlights of the year for the students.
---
Butterfly Life Cycle Listings
---
I hope you and your students enjoy these ideas for bulletin boards on the Stages of the Monarch Butterfly!
Return to Home Page from Ideas for Bulletin Boards