Life Cycle of a Butterfly
Video and DVD
This short 5 1/2 minute Life Cycle of a Butterfly video download or DVD includes photos, videos of the transformation from caterpillar to chrysalis and emergence of the butterfly, background music and narration describing the Monarch stages.
"Karen,
My first grade class has been studying butterflies for the past week. We have done projects and reads books about the life cycle of the butterfly, but after watching the DVD I feel that the students really understand the life cycle and butterfly vocabulary.

Thank you for sharing your experiences with us! We are anxiously waiting the arrival of our caterpillars so that we can observe first hand the life cycle of a butterfly!
Emily"

Below is a preview with a couple of clips from the Monarch Life Cycle Movie...
Butterflies in the Classroom
This Butterfly Video or DVD is a useful teaching tool that provides your students the experience of actually seeing the butterfly life cycle live. Also, if you are going to raise butterflies in the classroom, this will help your students look for clues of the monarch stages.
"Karen,
The video was great! I actually incorporated it into a lesson that I was being evaluated on and the evaluator wanted to know where I got it from so she could pass it along to her son's teacher.

I teach Pre-K and the length of the video was perfect for that age group. My children really enjoyed it and it definitely added to their overall understanding of the life cycle of the butterfly.

I also used a lot of the information from your lesson plans. My evaluation went very well.

Thank you!
Donita"
Combine this Monarch Life Stages Movie with the following to create a complete Butterfly Life Cycle Unit:
There are 2 ways to purchase this video:
Digital Video which is downloaded to your computer
DVD Video which is mailed to you
---
Life Cycle of a Butterfly Video Download
Click the Buy Now button and after purchase, the download is delivered automatically through a secure download link.
Price: $7.00
Note: The download is a WMV file. To play the video:
Windows - Either the Windows Media Player will open automatically or open WMP and select the downloaded file. Other Windows compatible media players that support the WMV format are DivX, Winamp, VLC (VideoLan Client), and Power DVD.
Linux - Linux usually has a VLC player installed with the help of which WMV files can be played. Linux also supports media players such as Miro, Boxee, RealPlayer, Mplayer and Helix Player which are all WMV compatible.
Mac - Although Mac doesn't support the WMV format, Apple Quicktime can be made to play WMV files by installing a free plugin named "Filp4mac", which is available for free download from Microsoft's website. Again VLC player is an option to play WMV files on the Mac as well.
"5th graders watched in total fascination! Good job on the video!"
---
Life Cycle of a Butterfly DVD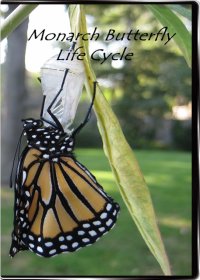 This lovely DVD will be shipped to you. Shipping is cheaper for quantities so get a group of teachers and split the shipping cost.
The Monarch Butterfly Life Cycle DVD would also make a great teacher gift or a unique gift for a child or friend.
Price: $7.00 plus shipping
"Great idea...I have moved from kindergarten to grade 4 and would love to continue to study butterflies. The movie is very clear and will benefit any age.
Thanks so much,
Melanie"
---
Both the download and the DVD have a 30 day 100% money back guarantee if you aren't completely satisfied! The DVD must be returned to me and a refund will be granted for the full purchase price less shipping and handling.
*******************************************************
Make sure and check out my Monarch Butterfly Life Cycle PowerPoint, another great resource for a classroom Butterfly Life Cycle unit!
*******************************************************
Return to Home from Life Cycle of a Butterfly