More Classroom
Bulletin Board Ideas
Best Butterfly Bulletin Board
Looking for interactive classroom bulletin board ideas? This one will be a favorite of students and teachers alike.
MaryAnn, one of the creative teachers who is a visitor to my website, came up with this fantastic idea for an interactive science butterfly bulletin board.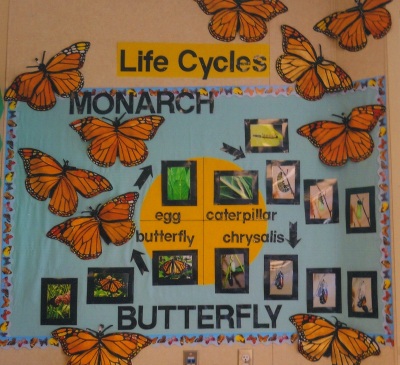 She ordered my 22 photo 4x6 monarch stages set, now as low as $4.00 per set, and selected pictures from this group, laminated the pictures and also laminated the black construction paper backings.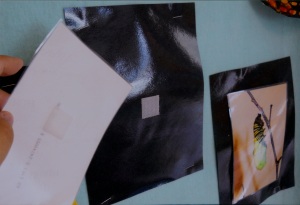 Velcro on the the backs of the photos and on the black backings allow the students to actually remove the photos.
They can see the butterfly pictures close-up and then put them back in the proper order....making this one of the best interactive elementary bulletin boards with a science or butterfly theme.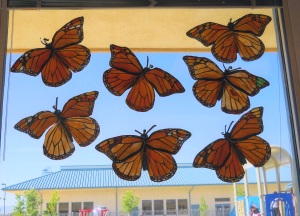 She used the templates below for the beautiful butterflies that decorate her elementary bulletin board idea and classroom window.
The templates are copyrighted so please do not copy....but create your own template or have the students do their own.
MaryAnn explains how she "colored" the monarch butterflies...
"For my sample picture for the kids I used crayola markers. But when we had the kids in kindergarten do it they painted with Tempra paints....the pot paints and only gave them orange, red and yellow to paint with even though a few got green in some how!"
This new Monarch Butterfly Life Cycle PowerPoint is a great way to teach the butterfly lifecycles to your students and includes a free study guide.
Check out more information on my website to make this project fit into these specific categories....
I hope that you find these classroom bulletin board ideas helpful as you plan for your school year!
Thank you very much to MaryAnn for sharing this beautiful bulletin board with my visitors. I think hers is an excellent example of classroom bulletin boards that could become a favorite of students.
---
---
It is so much fun to see the creative ideas that teachers have for classroom bulletin board ideas! Please share your ideas with us here....
Your School Bulletin Board Ideas
Please share your Butterfly-themed.....

Preschool Bulletin Boards
Kindergarten Bulletin Boards
Elementary Bulletin Boards
Christian Bulletin Board
Return to Home from Classroom Bulletin Board Ideas