Easy Butterfly Garden Plan
Best Butterfly Flowers
Several years ago, I decided to create a butterfly garden.
Over the years, my appreciation for flowers and nature "blossomed".
Bird watching became one of my hobbies. This seemed to naturally lead to observing the butterflies that occasionally visited my garden.
This is when I decided to create a garden to attract butterflies.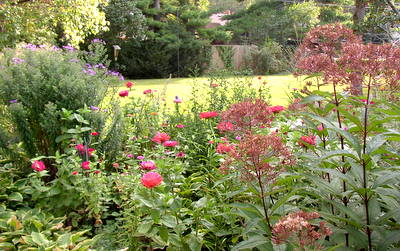 Aster (left) Zinnia (middle) Joe Pye Weed (right)
After scouring numerous books and loads of information on butterfly flowers and plants, I experimented in my own garden.
I will share with you what I learned and which of these really attracted butterflies.

Although I love gardening, I did NOT want to spend HOURS taking care of my garden.
This is when I discovered native plants....some favorites are, Swamp Milkweed, Joe Pye Weed, Asters and Meadow Blazing Star.
The tremendous advantages of native plants:
Historical....they evolved over thousands of years
Practical.....they require minimal attention and care
Durable.....resist pests and disease
Naturally beautiful
Provide food and cover for wildlife
Since natural sort of "fits my personality", I decided to try some of the native plants of our area.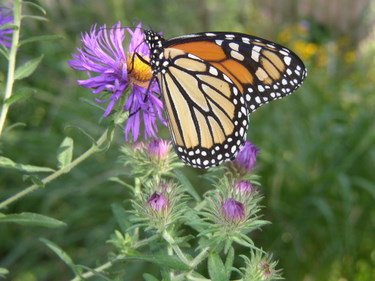 Not surprisingly, I discovered that
native plants are a favorite of the butterflies
.
You can combine these with some favorite butterfly annuals, such as zinnias and a few other butterfly favorites.
If you are gardening for butterflies and want to observe the entire life cycle of the butterfly, i.e. all of the unique butterfly stages, be sure and include in your plan:
The above links will give you detailed information and specific suggestions on the top nectar flowers and host plants to add to your garden for butterflies. Also, here is a butterfly garden plan I designed with some of the top butterfly plants.
Check out these discount butterfly garden plants including a butterfly garden kit and monarch butterfly host plants or....
For a cheap garden that attracts butterflies, why don't you try growing the seeds yourself.....
PLEASE NOTE: I have started many of these flowers from seed myself. The Tropical Milkweed, Zinnia elegans and Zinnia lilliput are easy to start from seed and grow quickly. The perennial seeds are much slower to grow. The Swamp Milkweed seeds need to be refrigerated for 1 month first or sown in the ground in the fall. Here is the best method for starting seeds that I have found.
---

Are you ready??........follow me into a garden for butterflies....
Garden Plan | Nectar Plants | Host Plants
---
Other Garden Links to check out:
The Hummingbird Guide: Plant a hummingbird flower garden, Attract hummingbirds with flowers, Hummingbird facts, species, photos and more.
Native Ventures Butterflies - Dr.Charles Allen, expert and author on native plants of Louisiana, shares information on native butterfly host and nectar plants for this area of the U.S.
Plant a rain garden in your yard and help protect our waterways while you enjoy long days of watching butterflies and hummingbirds.