When shall I put my wintering chrysalis outside?
by Dee
(Long Island, NY, USA)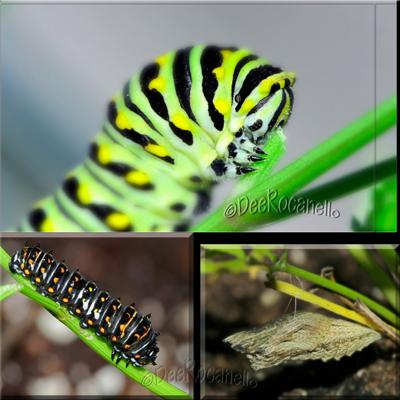 Black Swallowtail Caterpillar Just Before Making Chrysalis.
I watched a caterpillar last summer as it went through the stages from small to large, then, it made it's chrysalis.

When it began getting cold, I brought the pot and the parsley with attached chrysalis into my tool shed, which is dark inside.

I live on Long Island, NY, and today I noticed that the chrysalis has changed, as if I can almost see a pattern inside.

While we experienced some unusually warm weather about 2 weeks ago, it is back in the 50's here. There are not a lot of flowers in bloom yet, but I do have a yard full of Daffodils.

My question is, what time of year would be safe for me to bring the chrysalis back outside? What should the consistent outdoor daytime temperatures be?

Thank you. Here is a photo of the Caterpillar before he went into Chrysalis mode. I think it is a Black Swallowtail.

Karen says:
Dee, I am so sorry...somehow I missed this submission. Please tell me what happen with your black swallowtail chrysalis. Did the butterfly emerge??

Thanks for the great photos!