The Monarch Butterfly
by Nada
(USA)

Monarch butterflies are the most beautiful of all butterflies, some say, and are considered the "king" of the butterflies, hence the name "monarch". There are lots of very cool things to learn about the monarch butterfly and we'll try to get through most of them here.

---
Royalty

by Sue Mohrmann
(Carrollton, Virginia)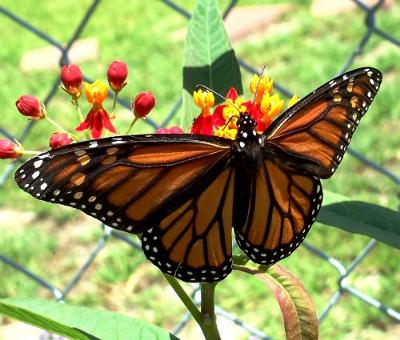 Royal Beauty
Last August, we had dozens of Monarchs in our backyard. I was lucky to get this shot of one.
---
Monarch Just Released

by Betsy
(Washington IL)

This monarch was raised from a caterpillar in my kitchen....when it was ready for release, I hung it from a small dogwood tree in my backyard. It's wings were still a little wrinkly so it sat there for about 20 minutes, then took off!
Join in and write your own page! It's easy to do. How? Simply click here to return to Pictures of Butterflies.