Photogenic Tawny Emperor
by Christine Nathaniel
(Mc Allen Texas)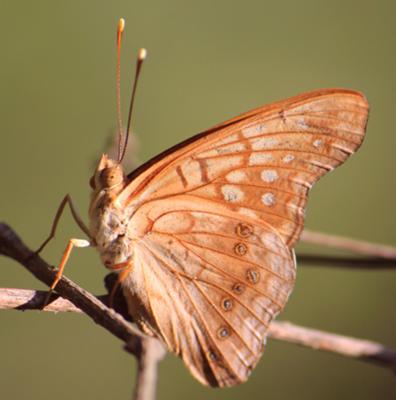 Taken at a outdoor butterfly garden in Mission Texas.

Karen says:
Thanks for the beautiful close-up photo! This is a Tawny Emperor or Asterocampa clyton. The host tree for the Tawny Emperor is the Elm family of trees. The eggs are laid in large groups of 200-500 on bark or the underside of leaves.

An interesting fact about this butterfly is that the caterpillars in the 3rd stage hibernate in groups of about 10 inside a dead curled leaf. Also, the tawny emperor butterfly does not drink flower nectar but feeds on tree sap, rotting fruit, dung, etc.
Join in and write your own page! It's easy to do. How? Simply click here to return to Pictures of Butterflies.