Oyamel Forest
Overwintering Sites
Mexican Monarch Migration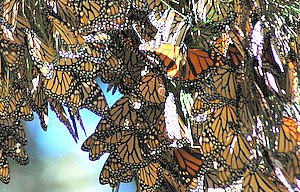 The Oyamel Forest in the Central Mountains of Mexico are home to the overwintering sites of the monarch butterfly migration.
HOW AMAZING THAT THESE BEAUTIFUL INSECTS FIND THEIR WAY TO THIS VERY SPECIFIC, SMALL AREA OF 12 MOUNTAINTOPS IN CENTRAL MEXICO......WHICH HAS THE PERFECT MICRO-CLIMATE AND ECOSYSTEM!!
A 1986 presidential decree in Mexico established the Monarch Butterfly Special Biosphere Reserve. This consisted of 60 square miles of protected forest.
It included five sanctuaries......one for each of the known overwintering sites:
Altamirano
Sierra Chincua
El Rosario
Chivati-Huacal
Cerro Pelon
Seven more overwintering sites were later discovered:
San Andres
Mil Cumbres
La Mesa
Lomas de Aparicio
Piedra Herrada
San F. Oxtotilpan
Palomas
In the year 2000, a Presidential decree expanded the reserve creating a protected corridor of 216 square miles.
The Monarch Butterfly Reserve is strictly protected from logging.
The local farmers affected by these decrees lost jointly-owned land and income. Therefore, in 2001, a Monarch Trust was set up by the World Wildlife Fund. The WWF buys logging permits from the farmers using the interest from the money in the trust. This essentially pays local residents to stop logging in the Oyamel Forest.
Two of the sanctuaries are open to the public, El Rosario and Sierra Chincua. El Rosario was the first site opened to the public. Sierra Chincua was opened to visitors in 1996.
Locals also have taken advantage of the tourist trade as income.
A delicate balance is needed so the sanctuaries do not become ruined and worn from the tourists.....which could negatively affect this ideal habitat of the Mexican Monarch Migration.
The majority of the Monarchs arrive in the roost sites around November 1 or 2. They continue arriving through early December.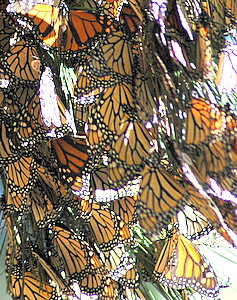 They choose this thick canopy on the steep, southwest-facing slopes because it provides protection.
The climate is close to freezing which puts the Monarchs into a state of torpor(semi-paralysis).
Hanging motionless from trees, they expend little energy.
The forest streams, clouds and fog provide the moisture the Monarchs need....winter is the dry season.
Even with the lipid mass, which stores energy in their bodies, they could die of dehydration on hot days without the moisture found in this micro-climate.
As the Monarchs become active in warm weather, they often drink from the streams.


The Oyamel Forest is the perfect micro-climate
for the Monarch Butterflies and research proves they have continued to return to these SAME 12 overwintering sites since 1976.


Monarch Migration | Mystery Solved | Migration Route | California Sites | Spring Migration

Return to Home from Oyamel Forest


---
Home | Raise Monarchs | Milkweed | Butterfly Garden | Nectar Plants | Monarch Migration Raise Swallowtails | Kids and Butterflies Butterfly Photos | My Story | Contact Us