Newly emerged male Black Swallowtail compositions with a "twist"
by Hans Jakielski
(NW Chicago surburbs, IL)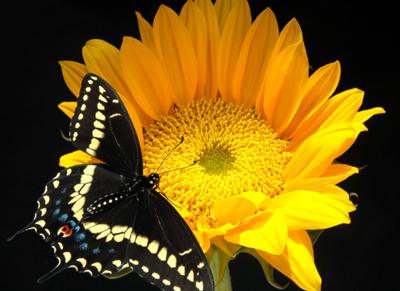 This beautiful specimen over-wintered in my house along with a second Black Swallowtail that should emerge any time now. I've hatched Monarchs before, but this is my first Swallowtail.

It was a wonderful experience to go thru the life cycles over the last 6 months and to have my wife and 7 year old son experience it with me. They are also enjoying the dozens of beautiful photos that have been produced by this wonderful experience. I shot almost 20 compositions over 3 days with this very willing butterfly and have greatly exceeded my expectations of what I thought I might accomplish.

I added a shot of one of the many beautiful photos I took of a Monarch last fall after it emerged in my house. I'm guessing it headed for Mexico when I released it that same day.

I'm now getting ready to release the Swallowtail, but I'm holding off a little in hopes of introducing him to the other one who is taking "her" (I'm hoping) sweet time. Until then, he is making a great house guest and sipping hummingbird nectar from our hands. Enjoy the photos!

Karen says:
Beautiful Hans...thank you for sharing your experience!


Join in and write your own page! It's easy to do. How? Simply click here to return to Pictures of Butterflies.