A Yellow Butterfly
by Bilwadal Bandyopadhyay
(Howrah, West Bengal, India)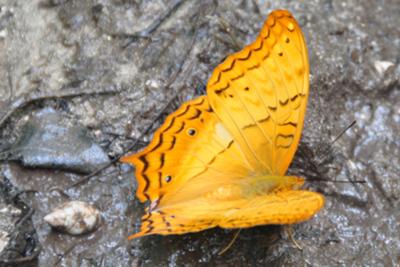 In a jungle in Little Andaman island, we found this beautiful yellow butterfly gathering salt from a puddle. I would love to know its name.

Karen says:
I found it!! (I had fun searching :) I found it on website about Meghalaya insects, etc. Check out the photos in Google Images of "Cruiser Butterfly". Here is the description:

"The Cruiser - Cynthia erota (Fabricius)

Colour : Yellowish brown or greenish brown
A somewhat common butterfly of 72-110 mm. Forewing protruded and hind wing with a pointed tail. Upper surface of the male wing tawny or yellowish brown with two wavy black lines on the outer margin and one irregular line across the middle area of both wings. With two round eye shaped markings on the hind wings. Upper surface of the female wing bluish green or dark greenish brown with markings similar to male and with prominent white band across the middle area. Recorded from Shillong during October."

Thanks for sharing!
Join in and write your own page! It's easy to do. How? Simply click here to return to Pictures of Butterflies.