Rasing butterflies indoors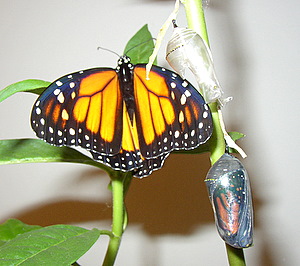 Reading the website, it sounds as though it may be possible for me to raise Monarchs indoors during the winter?....it's Dec. already but would it be possible to order and plant the Tropical Milkweed seeds or get cuttings at this time and then when mature, order Monarch eggs or caterpillars from you? Or is the sequence different?
Karen says:
It all depends on where you live. In Florida, monarchs are seen year round so you could raise them in the winter. I would only raise butterflies indoors if the temperature is above 60 degrees outside. Otherwise, you can't release the butterfly outside when it emerges and they won't have any nectar for food. If you
start the tropical milkweed seeds
inside after the first of the year, it will take a few months for them to be big enough to feed a monarch caterpillar. In the spring you can
order monarch eggs or caterpillars
, raise them inside and release them.