Raising Black Swallowtail Butterflies in Virginia
by Stephanie
(Dinwiddie, VA)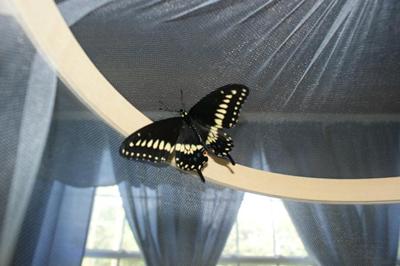 My first butterfly born 07/10/09. A beautiful male black swallowtail butterfly !
One day out of the blue I wanted to raise butterflies. Did some research online and got some books and was on my way to raising black swallowtail butterflies. I bought and planted some dill, fennel and parsley and had eggs two days later on the fennel. I collected the eggs from outside and everything else was done in the house.

The eggs hatched to the caterpillar, caterpillar turned to the chrysalis and then the beautiful butterflies emerged. The whole process took a over a month. I was really really excited!!

I have had 4 more emerge since then. Two more males and two beautiful females. All have been set free in my backyard! Loving it!