Monarch Caterpillars....Beware the Paper Wasp
by Patti
(Missouri City, Texas, USA)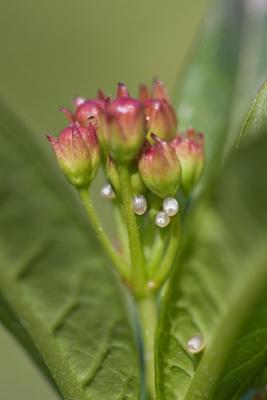 Monarch Eggs
I bought a few Milkweed plants so I could attract and photograph Monarch butterflies. I planted the plants in my yard and the Monarchs showed up within days.

I was thrilled and spent as much time as I could watching and photographing them. When I saw one of the females laying eggs, I was really excited. I could just imagine seeing an egg get all the way through the caterpillar and chrysalis stages and witnessing a new butterfly emerge.

I saw the tiny little caterpillars and then I saw a Mom bird stuffing one after another of my caterpillars down her hungry little baby's throat. Oh well, birds have to eat too. And there were plenty of eggs, so I'll share.

Finally I had a few caterpillars getting larger and I was out in the yard watching them crawl around and consume my plant. I was keeping an eye on a pesky Paper Wasp (yellow and black striped body)that kept flying around me. Much to my surprise, the wasp attacked, killed and ate the caterpillar. I had no idea they did that.

That's when I started searching on the internet to see if I could bring the caterpillars in the house and keep them safe from predators.

I found your site and I now have a vase with a branch of milkweed in it and one of the caterpillars. I will be looking for more.

This is a wonderful site with great information and references! Thanks so much for providing it. I have a lot to study and learn, so the references you provide are just what I needed.