LOOKING FOR THE NAME OF A SWALLOWTAIL
by Belinda
(Bennington,Oklahoma)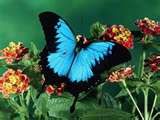 I am trying to find out the name of a swallowtail. I have only seen it one time in my life. And in pictures. But I would like to know the name of it. Can anyone help me? It look like this. The wings are all shades of blue trimmed in black...very beautiful. I uploaded a picture I have found. I hope it helps.

Karen says:
It is a blue mountain swallowtail. It is found in Indonesia. Here is some more information on the blue mountain swallowtail.
Join in and write your own page! It's easy to do. How? Simply click here to return to Butterfly Questions.